Idea:
Position Chicago beer brand, Old Style, to an audience of a popular TV series that might be interested in the establishing regionality that the brand can help bring to the small screen.
Execution:
Marked Entertainment worked closely with the show's producers to integrate Old Style Beer into the storyline of CBS' Emmy Award winning comedy Mike & Molly. We secured the brand as the beer of choice for the main characters throughout the show's second season. As the series takes place in Chicago, Old Style Beer lends itself perfectly to the show's core demographic as well as its blue collar characters that the brand is established with.
Synopsis:
Producer Chuck Lorre (creator of Two & a Half Men and The Big Bang Theory) brings a sweet romance between a pair of shy Chicagoans. The Emmy Award winning series, Mike & Molly is back on CBS for a second season. Molly (Melissa McCarthy, Bridesmaids) is a sweet and smart fourth-grade teacher with a sense of humor about the pounds she is trying to lose. She finds love with Officer Mike Biggs (Billy Gardell, Bad Santa) at an Overeaters Anonymous meeting. Mike wants to lose weight almost as badly as his thin, fast-talking wise-guy partner Officer Carl McMillan (Reno Wilson, Transformers) wants to get a girlfriend. Despite the teasing, Carl and other friends encourage Mike and Molly on their road to slimness and romance.
Exposure
Season 2, Episode 6: "Happy Halloween"
Old Style receives hands-on exposure with Mike and Vince (Louis Mustillo, Hellraiser: Bloodline) in the sixth episode (October 31, 2011), in a mini-arc about Molly's career. Mike has to get used to taking a backseat to Molly's job sometimes. An ambitious fourth grade teacher, Molly goes for the Vice Principal position at the elementary school she works at. Vince teases Mike about having lower career ambitions than a woman over beers on the couch in a two-minute scene with four Old Style bottles on screen. Because of this length and quantity, the beer receives strong placement during "guy time."
Season 2, Episode 7: "Carl Meets a Lady"
Old Style receives hands on exposure with Carl in the seventh episode (November 7, 2011). After having some trouble in the romance department, Carl doesn't think he is good enough to get a good woman. He has a two-minute heart to heart with his grandmother (Cleo King, The Hangover) while drinking an Old Style beer, which is a positive prop in this long and heartfelt yet humorous pep talk.
Season 2, Episode 10: "Molly Needs a Number"
Old Style receives hands-on exposure with Vince again in the tenth episode (December 5, 2011). Molly and Mike plan their wedding. Molly's mother Joyce (Swoosie Kurtz, Cruel Intentions) and Vince, her boyfriend, try to talk Molly into having a double wedding and honeymoon to save some money on both of the couples' nuptials. Safe to say, Molly sarcastically rejects their proposal.
Results:
After Melissa McCarthy (Bridesmaids) won the 2011 Emmy for Outstanding Lead Actress in a Comedy series, the show has been drawing around 12 million viewers per episode. Old Style achieves exposure to many potential consumers during these episodes.
10/31/11: 11.53 million viewers, 18-49 (3.8/9)
11/7/11: 11.93 million viewers, 18-49 (4.2/10)
12/5/11: First in HH (7.9/12), viewers (12.83m), adults 25-54 (5.3/11) and adults 18-49 (3.9/09)

Idea:
Marked Entertainment carefully devised an effective brand recognition strategy for Old Style Beer, illustrating its wide availability, popularity and affordability.
Execution:
Through the key placement of Old Style 12 ounce bottles during episode six in the second season of Showtime's hit television program, Shameless, Marked Entertainment successfully developed a strategic marketing design for Old Style Beer which prominently showcased the recognizable brand's logo repeatedly to over one million viewers.
Synopsis:
Frank Gallagher is the proud single dad of six smart, spirited and independent kids, who without him would be... perhaps better off. The brilliant William H. Macy and Emmy Rossum star in this wildly engaging and fearlessly twisted new Showtime Original Series. The Gallaghers may not have much in the way of money or rules, but they know who they are — and they're absolutely, wildly, unapologetically SHAMELESS.
Exposure:
Season 2, Episode 6: "Can I have a Mother?"
Later in the episode, Jody (Zach McGowan) and (Laura Slade Wiggins) hold their wedding reception at Sheila Jackson's (Joan Cusack's) house. Old Style receives hands-on exposure during the reception when Fiona (Emmy Rossum) is seen carrying around a 12 oz bottle of Old Style. Fiona drinks from the bottle during multiple shots. As the episode comes to a close, Fiona (Rossum) steps out onto the front porch of the Gallagher's house to find a downtrodden Frank (William H. Macy). In an effort to cheer him up, Fiona hands Frank 12 oz bottle of Old Style beer. The logo is very clear and recognizable.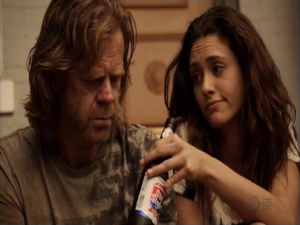 Results:
By developing an innovative strategy to promote Old Style Beer, Marked Entertainment significantly increased the brewer's brand recognition resulting in crucial wins for their key performance indicators.