Idea:
Capitalize on existing synergies through the careful placement of Pelican branded cases in a successful police television series, thereby signifying its high standards of industrial, military, and commercial equipment to a wide and dedicated audience.
Execution:
By leveraging deep industry relationships Marked Entertainment secured placement for Pelican Orange Case as they relate to story and plot of the popular CBS series, The Mentalist. Through strategic collaboration with the show's production team, Marked Entertainment ensured high visibility placement of their client's world class, industry leading cases during The Mentalist's twenty third episode of the fourth season. Pelican's EMS 1460 Orange Case is prominently featured as a hands-on and background prop in the highly rated program with the brand's distinctive logo noticeably marked on the case.
Synopsis:
The Mentalist tells the tale of Patrick Jane, who is employed as an independent consultant working with the California Bureau of Investigation (CBI) to solve crimes.
Exposure:
Season 4, Episode 23: "Red Rover, Red Rover"
Red John taunts Jane (Simon Baker) on the eighth anniversary of his wife and daughter's death. With Jane's attention diverted and his concentration wavering, the current investigation and his CBI career are put at risk. Jane takes his investigation too far when he locks the suspect (Aaron Lohr) in a coffin in an attempt to force a confession. Teresa (Robin Tunney) arrives to Jane's torture session just in time to save the suspect but just after he confesses. Pelican gains hands on exposure in the form of an orange 1460 EMS Case when the ambulance arrives to pull the suspect from his near-death experience. The logo is clearly marked on the case. In addition to the hands on exposure, the case is predominately featured in several background shots.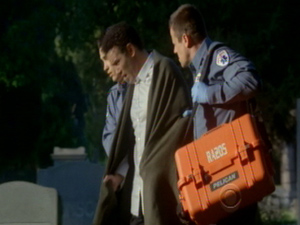 Results:
By understanding key business drivers behind Pelican Brand's products, Marked Entertainment helped ensure that the brand's distinctive merchandise were seen by over twelve and one half million viewers helping them remain competitive in their market segment and recognizable to their core customer base.